I think everyone feels a flinch of pain for TV characters who either commit suicide or attempt to do so. And it would seem that this empathic twinge is stronger for TV characters than for characters in a novel, I assume because of the immediacy of the visual element that isn't present in written form.

And I'm not talking about what the loved ones of the despondent person must feel, but the person who is actually attempting suicide must feel. But before I get to that, I'd like to differentiate between two types of this desire for death, so to speak.

We might call one of these "environmental suicide," though I'm not talking about the natural environment - I'm talking about the external factors that drive one to contemplate suicide: divorce, job loss, loss of a loved one, etc. - or a combination of all of these.

The other type we could call "internal suicide," which would be the result of any genetically pre-disposed brain abnormality that would lead to clinical depression, bipolar disorder, etc.

I think regardless of what it is that drives one to suicide, I believe the feeling is the same: the apathy, the hopelessness, the longing for relief and release, the final resolve, etc. For someone compelled to suicide, depression cascades down upon you and covers you like thick engine oil, and time becomes like a viscous liquid, moving languidly like honey sliding from a spoon. And no one can experience the feel of the gun in the hand, the cold steel against the temple, or the warm bath and tempered slenderness of the blade.

It seems it is the former type with which we are dealing in the L O S T narrative, and this reminds me of the point made by Existentialist philosopher Albert Camus; namely, that judging whether life is or is not worth living amounts to answering the fundamental question of philosophy.

Clearly Michael, in Meet Kevin Johnson, has made his judgment, and it's clear that, for him, life is not worth living.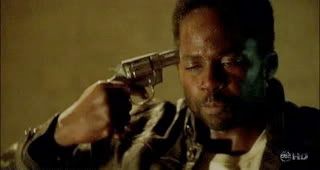 But to some extent we can, if we are avid (i.e., obsessed) fans of the show, empathize with Michael's plight. If we put ourselves in his shoes, we might be able to get an inkling of what he must feel. Prior to the crash of Oceanic flight 815, Michael was estranged from his wife and son, and made earnest, if clumsy, attempts at reconciliation; then, after having just received his son back into his life, he crashes on a strange island full of mysterious and dangerous happenings, unsure of whether they can survive on the island or even get rescued from it; and then, just as rescue seems possible, a boat-full of enigmatic, secretive and apparently hostile strangers kidnap his son right before his eyes; and then, to gain his son back, he must deceive his friends and fellow castaways, and finds himself confronted with the ultimate quandary of killing two of them to save his son; and, once having left the island, he confesses to his son what he did to gain him back, effectively losing him again, finding himself in his pre-island predicament.

It would seem that Michael has come full circle, with all the lurching nausea of a roller coaster ride: hope, despair, hope, despair, hope, despair, hope, despair. I would argue that Michael's emotional journey far exceeds, in terms of psychological trauma, such things as divorce, job loss - or even the loss of a loved one. As horrible as it is to lose a loved one, the loved one is lost only once; the bereaved has one opportunity for grief, for closure, and finally acceptance. I think it's fair to say that none of us will have to go through what Michael has gone through.

In the finale of Season 3, we see that Jack is also on the verge of suicide.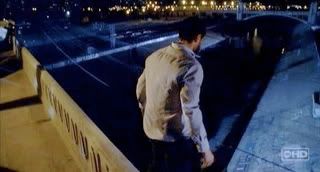 While we don't yet know what has driven Jack to this point, we do know that he had a turbulent relationship with his father, even up to his father's death (may we also call his father's death a sort of suicide?). Additionally, he had grown estranged and ultimately divorced from the woman he "miraculously" saved. During his on-island time, Jack was thrust into a stressful (to say the least) leadership role, and became the Shepherd of the lost flock.

In Jack's pre-island life, on-island life and even his post-island life, we see that Jack has a strong obsessive component to his personality. We could argue and speculate that Jack's predisposition to obsessive behavior and possibly alcoholism, combined with his experiences in childhood and adulthood, has led to his desire for death - his desire is a product of both internal and environmental factors.

This combination is probably even more lethal than in Michael's situation because of the deterministic element: most medical professionals would agree that abnormalities of brain function have a compulsive element in them that is not present in otherwise "healthy" individuals. Presumably, those without the brain abnormality possess a strength of will to withstand adversity that is diminished or possibly even absent - depending on the degree of mental impairment - in those with the brain abnormality.

We could also speculate that it was Jack's obsessive personality that brought him back from the edge of suicide - the car crash on the bridge. As he told Kate in the Season 3 finale: "old habits." Of course as we learned from Tom, a.k.a. Mr. Friendly, maybe the island won't let Jack kill himself...

John Locke tried to commit suicide after Ben shot him and left him for dead in the DHARMA Initiative open grave.




Locke's life story is about the search for meaning, more so than Michael or Jack's story, and thus has more affinity with the Existentialist philosophers. But Locke's search for meaning is also about being "special." His desire is for others - perhaps even God, the Universe, whatever you want to call it - to realize this specialness and to value it. That's what would give his life the most meaning.

We know that Locke grew up in many foster homes after being abandoned by his parents. We know he was conned out of his kidney by his father. He was spurned by his love Helen after she found out about his dealings with his father. Has thrown out of an 8-story building by his father and broke his back, rendering him paralyzed. He was denied access to the walkabout tour, and then on the flight home he crash-lands on an island.

But then something happened. This was the best thing for Locke. When he woke up he was no longer paralyzed. He was "born again" on the island, a clean slate, the future open. He could leave all his miserable baggage behind and create his own meaning.

But Locke's Michael-like emotional roller coaster would continue on the island. First he became the shamanic warrior-hunter for our lost flock, providing food and healing psychological wounds (while Jack tended to physical wounds).

He felt he had some sort of communion with the island, that the island was "speaking" to him, and this made him feel very special. On-island Locke was much more confident and serene (most of the time) than pre-island Locke.

After discovering the Hatch, he discovered the "button," and this became his life's work and meaning. But then the Pearl station was discovered and this was a devastating blow to his belief in the reality of meaning.

But after the Hatch was proved to be real and imploded, he was again born anew and received a vision from the island inside his impromptu sweat lodge. He was on the scent of meaning again.

And when Locke heard from Ben, a.k.a. Henry Gale, that Ben was coming for him, he eventually decided to stay with the Others when it came time for the Others to abandon the Barracks and move on.

Additionally, Locke was able to hear Jacob, whom Ben had insisted was the real Man Behind the Curtain, thus prompting the ever-power hungry Ben to shoot Locke and leave him for dead. And that's when Locke decided to end it all.

But then "taller, ghost Walt" appeared and told Locke to get up because he had "work to do." Locke was special again...

We can see how this roller coaster ride could wear one out, psychologically speaking. Perhaps more than anything else, a human being's search for personal meaning in an impersonal Universe is the quintessential characteristic of what it means to be human. We are self-aware creatures aware of the fact that one day we will cease to exist.

Depending on our psychological and emotional mettle, we can handle all these ups and downs because we know (or at least believe) that both good things and bad things happen to us, and the wheel keeps spinning round. For most of us, most of the time, we can live with that uncertainty. We know that we will ultimately die, but we believe hat it's how we spend our time while we're alive that's most important. We value our lives so much that it's important to us to obtain more good than bad when the final tally is in. We also know that, in the grand scheme of things, our efforts and our accomplishments are ultimately meaningless.

But we can't at the same time value our lives so much and yet think that our lives are meaningless. Indeed, one's life has to have meaning in order for one to value it. If we feel our life has no meaning - and therefore no value - we are naturally driven to the "fundamental question of philosophy" - should I continue to live, or should I end my existence?

Locke had his ultimate weak moment in the DHARMA grave and apparently decided he should end his existence. Which one of us, if in Locke's same position, wouldn't do the same? Locke's lifelong search for meaning met with frustration after frustration. Locke kept bumping up against brick walls. I think many of us tend to forget this fact now that we're in Season 4 and are getting more into the over-arching mythology of the show, and away from the primarily character-focussed narrative of the first two seasons.

But is suicide ever justified? Does one have to take into account the feelings of one's loved ones? Is it cowardly to commit suicide, or does it take the utmost human courage to take one's fate into one's own hands?

Most mainstream religions believe suicide to be a sin - if not the ultimate sin. If God created you, and his spirit lives in you as if in a temple, then you don't own yourself - God does. You're leasing yourself, in a sense. If you lease a car and purposely destroy it, you're in for a lot of money, if not legal action!

But if you believe that the Universe is impersonal and unconcerned, and you have taken steps your entire life to create your own meaning, then when that meaning is gone and one is presumably of sound mind, then maybe the decision to end one's own life is the ultimate expression of courage and dignity. One is not being compelled to end one's own life; one is making a free choice.

We understand that it's different with clinical depression. We understand that one's will is compromised when in such a state. You're not yourself. Your brain is broken and it needs fixing. Your brain is a computer that has crashed and the best thing to do would be to call the Geek Squad and get it fixed right quick.

But one thing's for certain - the decision to continue to live or to end one's existence is not a light one; indeed, it is the most significant decision one can make.

Fortunately, most of us don't make that conscious decision every day. We make that decision simply by continuing to live our lives.